Hello, everyone. I really hope you're all doing well. I know I haven't really been active here in some time, but I do pop in now and again to lurk. I realized recently that this month marks 13 years since I first joined The Art of Murder, and for that reason, I decided to channel some creativity into something that once gave me a lot of joy, writing mysteries.
Should you feel up to participating, read the story, and once it's finished, you may ask two questions, to two suspects or to just one suspect. Then, make a suggestion. I'll post how many elements are correct, and from there, we continue until we reach the solution and a confession. It's in the style of the Cluedo television show.
Now, this first one is rather long, I'll admit, and I understand if no one feels like reading it right now. But I tried to develop some characters and a setting, and I do hope I'll be able to continue working on these. Below, you'll find a teaser image, a brief synopsis of the episode, and the suspects, weapons, and rooms under suspicion. I will post the first scene shortly, and then the others will follow piece by piece. It's been written completely; I just want to shorten it up to avoid a big block of text.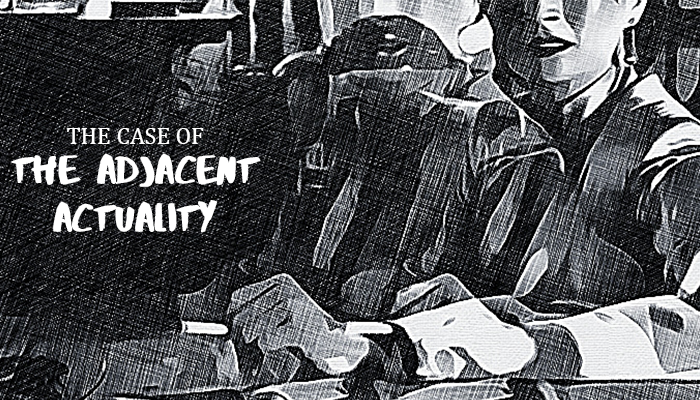 The sleepy seaside town of Candlestick Cove has always attracted odd stories: from the frequent reports of extraterrestrials in the night sky, to the vengeful undead marching band haunting the old fairgrounds, to a local colony of stray cats gifted telekinetic abilities during unsavory wartime research. But then again, the town itself was something of a strange assemblage. A failing beachside tourist industry blends with massive manufacturing plants, funnelling smoke into an already cloudy sky, pierced on either side by towering old money mansions. One of these homes belongs to a certain Mrs. Peacock, who, just one year ago, faced the most devastating tragedy a mother ever could, the loss of her only son. The young Michael Peacock tumbled to his death down the hall stairs, and the ripples of his demise seemed to echo through the little town he called home. Enter Dr. Orchid and Professor Plum, scientists who claim they, with an appropriate energy source, can enter other planes of existence, parallel universes adjacent to our own. And from one of these planes, they hypothesize they can pluck Michael Peacock (or at least some version of him) back into our reality. A dangerous demonstration of their research leads to a grisly series of events: a doppelgänger in the rain, a shifting numerical code, and the death of a young laboratory assistant, Miss Esther Drummond. Who killed her? Where? And with what? And were they one of us, or an invader from another world?