Your name is Reverend Thomas Mulligan. Your ordinance into the Church has been a recent occasion, but a predictable one. Afterall, your father and grandfather have been priests as well. Now that both have passed away, you and your brother Larry are last living generation to continue the family name. Larry however has his own interests, and you can only wonder...and worry.
Who knows, maybe you will someday return to Moonpoint and uncover the secrets your grandfather only knew.
There are 20 characters who will become friends and acquaintances for your soon-to-be adventure.
ALIVE
Mrs. Jennifer Harrington - "The Golden Girl"
Wife of Andrew Harrington, she was formerly Jennifer Laurier; a lounge singer and failed actress. Back in the day, she had her stint in Hollywood, where she desperately slept around trying to land a role, but eventually faded into obscurity. She married Andrew out of desperateness, though even he is unaware of the degree her time in Hollywood had emotionally damaged her. Now old, she passes herself off as the respectable Mrs. Harrington.
KILLED
- Captain Bill Gillian, Willard Smith, Kathy Harrington, Tobias Smith
UNKNOWN
Dr. Diane Dragon D.D.S. - "The Dentist"
The sharp-tongued Dr. Dragon is the colourful dentist of the Zukis. She is a sarcastic woman whose dark humour is sprinkled in conversations; sometimes at the most inappropriate of times. Nobody really knows why she is part of the voyage. Even stranger is that Mr. Zuki had a dental office built onboard the yacht; just for her. Sonja has strong suspicions that her husband is having a sexual affair with her.
KILLED
- Fayas Helmholtz
DEAD
Ms. Kathy Harrington - "The Granddaughter"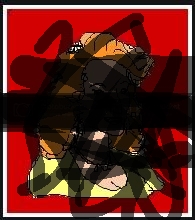 Granddaughter and caregiver of Andrew Harrington, Kathy had a traumatic past. She was there to witness the death of her parents on one fateful summer vacation. Andrew became her adoption guardian, but in his old age, she had become his aid more or less. She and her grandmother are estranged due to a reason only between the two of them know.
KILLED
- Johnathan Zuki (with Debra's help), Andrew Harrington, Sonja Zuki and Debra Ballinger
DEATH
- Shot by her grandmother, Jennifer Harrington.
Tobias Smith - "The Cook"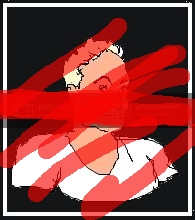 Back in the 80's, Tobias had become a reputed "member" of the pornography industry. He has proudly starred in over 20 videos. Now that he's finished with that, he decided to fulfill his dream career in the culinary arts. His skills become special requests for Zuki's party. He's be happy to serve his signature dish Fillet de Vienna Sausage. If you want a different kind of sausage...well you can talk to him in private about that.
DEATH
- Shot by his grandmother, Jennifer Harrington.
Willard Smith - "The Psycho"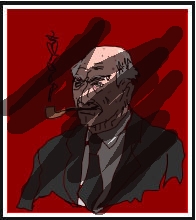 Back in 1927, Willard Smith was responsible for the murder of plutocrat, Dr. Montgomery IV; the former president of B.I.G. Club. Willard also slaughtered the Doctor's servants. His murders weren't the only ones to take place that dreadful night. Though Moonpoint has long since been abandoned into a ghost town, rumours have it that Willard survived his car crash, which later appear to be confirmed, as the old man is still alive, and as vicious as ever.
KILLED
- Countless many in the 20's, Harriet Bernstein, Warren Kawalchuck, Rosemary DiFrancesco, Sergei Winters
DEATH
- Killed with his own shotgun
Capt. Bill Gillian - "The Captain"
A bluff cheery seaman, Captain Gillian enjoys the water...and his smokes. Can't live without either one. He has been hired to take helm at the wheel for the duration of the voyage. Gillian has a wild imagination and often embellishes his grand stories to the point where one would question whether he is even telling the truth.
DEATH
- Stabbed with a kitchen knife
Mr. Johnathon Zuki - "The Host"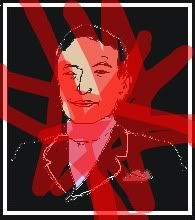 Little is known about this Japanese-Canadian billionaire mongol who keeps privately to himself most of the time. He avast his wealth in the whaling industry and over the years has been able to selectively find himself a crowd of acquaintances to serve or befriend him. Clearly likes to establish himself as the big cheese, he always calls the shots. Zuki is a man of power and control.
DEATH
- With a fire axe, the murderer hacked his limbs off, scattering them about his yacht while leaving his torso in the dentist chair.
Mrs. Sonja Zuki - "The Hostess"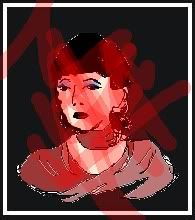 Zuki's iron-willed and cultured wife. She is slightly more down-to-earth than her husband and has strong musical background. She used to be a professional harpist, but now has retired comfortably on the wealth that her husband provides. Generally more down-to-earth than her husband, most would rather make business transactions with her than Johnathan himself.
DEATH
- Decapitated in the Kitchen by Kathy with a meat cleaver.
Sebastien Ariel - "The Attendant"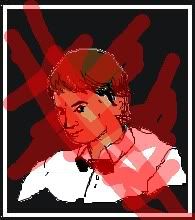 Sebastien is always at your service...within reason of course. He has taken the summer job of attending to needs of Zuki's passengers onboard the yacht. He is a likable guy, though one can tell there's more to him than a mere server at the gathering. He is also friends with Captain Bill and is more willing to divulge his secrets with him than most of the others.
DEATH
- Speared with arrows to the Gazebo pillar by Debra Ballinger.
Mr. Andrew Harrington - "The B.I.G. President"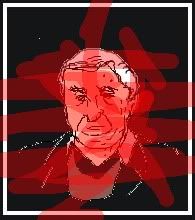 Ever since taking over the B.I.G. Club 63 years ago, Andrew Harrington had given the Club a complete turn around. No longer was it a snooty social club used as an excuse of decadent gentlemen to lounge and booze, but now an active charitable aid, that with Andrew's hand-in-charge, had gone global. However, now having entered his 80's, Andrew has grown tired and weary. He's now wheelchair bound and rumour has it, he will pass the B.I.G. torch down to Zuki.

DEATH
- Tied to a chandelier which had been rigged to fall when the ropes were cut. He dies on impact when the chandelier falls to the ground.
Dr. DÑ–ck Ballinger - "The Inventor"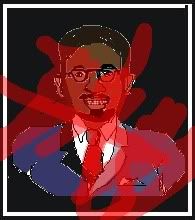 Dr. Ballinger can be given credit for his contributions towards the progression of technology. Back in the 80's he was heavily involved with the creation of Commodore. Rumour has it Bill Gates is knocking on his door right now asking for his hand in Microsoft. Currently, Dr. Ballinger has shown interests to be a part of B.I.G. He's brought his whole family with him for the voyage.
DEATH
- Hung by the neck, dangling from the speakeasy trapdoor.
Mrs. Debra Ballinger - "The Model"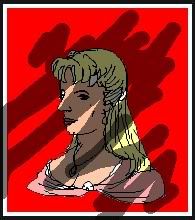 Debra is the epitome of Cinderella story. She is an American who grew up in an orphanage only to realize her dream on the run-way. She's had her fair share of achievements and medals back in the 70's and 80's, but now has settled to start a family with her ever so intelligent husband. She actively supports her husband in his ambitious pursuits towards becoming a B.I.G. member.
KILLED
- Larry Mulligan, Johnathan Zuki (with Kathy's help), Dick Ballinger, Peter Ballinger and Sebastien Ariel.
DEATH
- Throat slit and dangled from the dead tree.
Peter Ballinger - "The Prodigy"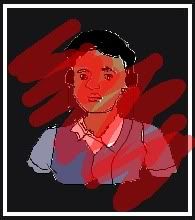 Peter is the 14 year old son of Dr. and Mrs. Ballinger. He's a somewhat shy guy, and has a remarkable talent for science. His parents often act like his coach in the sense that they would push him to considerable extremes to develop his future. In way, Peter is rather cynical over the superficial life he has and hopes to escape the doting clutches of his parents someday. He's found friendship with Fayas, the first mate onboard.

DEATH
- Bound with a wire and drowned.
Prof. Warren Kawalchuck - "The Activist"
Professor Kawalchuck is an arrogant man who boasts about his efforts towards human rights and the time he's spent aiding in African refugee camps. However, most see him as a rude nuisance who puts himself in front of needs of others. Those who bear to put up with his antics call him Professor Wiener behind his back. He also is seeking a position in the B.I.G. club, but acts as though he's a member already.
DEATH
- Stomach eviscerated by a spinning weed chopper activated by a booby trap.
"Rosemary Di Francesco - "The Benefactor"
The vineyards surrounding the villa that has been in her family for generations have been an extraordinary source of profit to their name. Forbes has her listed among the top wealthiest people in the world. Of course, B.I.G. couldn't be happier to accommodate her and her purse. A shrewd business woman and a stanch supporter of rights for women, Rosemary is looking to not only be a part of B.I.G, but to also have their name officially changed to something less sexist.

DEATH
- Head split in two by an ax sprung by a booby trap.

Mr. Sergei Winters - "The Lawyer"
Mr. Winters is Zuki's attorney who had been specially requested to come and oversee certain legal matters that may be of concern. He is looking into the details of B.I.G. and poses possible interest of wanting to join himself, that is if his client does the same. His one niggle about the cruise is his personal phobia of water.
DEATH
- Killed when flung by a catapulting snare to his death.
Mr. Cedric Hand - "The Financial Advisor"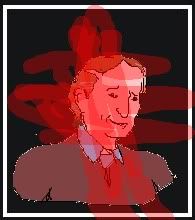 Cedric is already a B.I.G. member and a chief advisor involving the Club's finances. He's a nice, conservative guy who looks forward to an early retirement full of golf games. He's been invited to join the group for the cruise and meet some of the pending recruits for the Club. He really had nothing better to do.
DEATH
- Bludgeoned in the Dining Room by Thomas with a Candlestick.
Fayas Helmholtz - "The First Mate"
Fayas also works onboard Zuki's yacht and will be assisting Capt. Gillian with the sailing. He's an easy going guy who's a bit of a practical joker, much to worries of Gillian who feels that Fayas will get into trouble someday. Fayas has a dislike towards Dr. Dragon who he feels is so full of herself. Despite his important duties he must fulfill onboard the yacht, he's usually more happier when he isn't working.
DEATH
- Bound by dental floss, died of blood restriction, and likely froze in a Pepsi machine.
Larry Mulligan - "The Brother"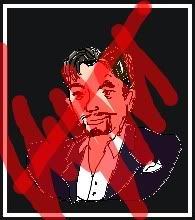 He is your twin brother (sans the facial hair) and you both have been quite close, almost like friends. Due to this, you both are happy to live in the same house and split the payments for amenities. For the past though, Larry had been distant as he pursued his ambitions; of which you have little knowledge of. All you know is, something isn't right with him. Possibly it is attributed to the recent death of your parents, which would explain his secretive behavior. Larry's became a member of B.I.G and to this date, you have no idea what B.I.G. actually does, or even what Larry does.
DEATH
- Shot through the head with an arrow.
Officer Harriet Bernstein - "The Guard"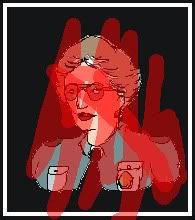 Harriet Bernstein is a cop who deals with the mundane tasks that come with the job. She is mostly bored with everything and everyone. She often promises herself that one day, she will do something wreckless and exciting, but until that day, she will just have to give some bozo his parking ticket. Officer Bernstein has been hired by Zuki to usher the guests on the boat and to accompany to cruise so that people stay out of trouble.

DEATH
- Blasted in the torso with a shotgun.
INVENTORY: