The White Pawn first brought this edition to my attention on another thread.
Basically the
Cluedo version of the Vintage Wooden Bookshelf edition
sold at Target in the US.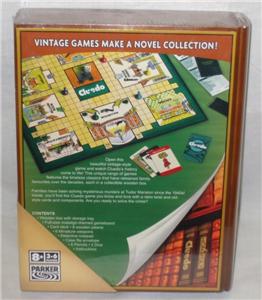 Notice, even though it says Cluedo it is identical to the 1963 US edition, for which there does not otherwise seem to be an international counterpart.
Love it or hate it, there's nothing vintage
Cluedo
about it. If anything they should have called it "Retro" Cluedo. But given that this was a US only version (as far as I know), I find myself wondering:
Since the board and cards obviously have been reprinted for the Cluedo version, does "Miss Scarlet" have a second "t" added to her name (it looks as if it might be in the picture)? Are the Knife, Wrench and Lead Pipe, changed to Dagger, Spanner and Leap Piping? Is "Mr. Green" changed to "Rev. Green" on the cards and/or the Board (it sure looks like it says "Reverend" on Green's Start space)? And finally, Mr. Green is depicted as something of a cigarette holder smoking aristocrat on this version. If the text was actually changed to reflect the good Reverend, was this drawing updated to reflect a reverend character as well? Or did they just change the name (if at all) to "Rev. Green" and leave the inexplicable aristocrat to represent him?
Perhaps some of our British or Australian counterparts who have seen this edition up close can offer more details? Googling turned up nothing for me.