The year is 1927...
Your name is Andrew Harrington, you are 18 years old and still live with your mother Mrs. Charlotte Harrington. Your father passed away 5 years ago. You have yet to be married and frankly...you are a loser. That is until your mother had kindly found an opportunity for work from her wealthy old friend Dr. Montgomery IV. Thus, he has invited you at his mansion during a get together will his club....
This is a Choose-Your-Path game. At the end of each peice of the story, I will provide several actions on which you may choose your own path.......Shall we begin??
-------------------------------------------------------------------
The cab from the station takes up to the arch leading into the small town of Moonpoint. The air outside of the cab is rather damp and cold as you feel a chill. You forgot your coat. Maybe you could by one at the general store. You pay the nice cab driver and await your destiny and bear the chilly air. Or are you nervous? In any case...Here goes nothing Andrew!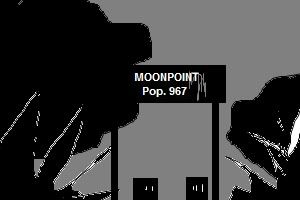 Enter Moonpoint

Turn around and go back (NO!)